Propane Cylinder Filling - All Locations
Rowlett Hardware - Your Local Hardware Store
Propane Cylinder Filling - All Locations
Refilling your propane tank and motor homes at Rowlett Hardware
Refilling your propane tank at your local Rowlett Hardware is convenient and economical. Plus, you get more gas than you would trading it at a convenience store.
Convenient hours with weekend and evening hours. You can shop while we fill, even buy a spare tank!
Refilling your propane tank is a better value than an exchange.
You keep your tank, we fill to the maximum legal limit. Exchange tanks are not filled to the maximum legal limit, 20lb tanks often contain only 15lb of fuel.
Rowlett Hardware fills portable tanks up to 100lb (25 Gallon).
NOTE: The following tanks must be inspected for safety: Grill tanks, RV/Campers, and Heaters.
PROPANE SAFETY
Tanks
Make sure to take the tank right to the dispensing station. Propane tanks cannot be brought inside the store.
Rowlett Hardware inspects all tanks for certification date and condition before refilling. There are rules and guidelines for how long a tank can be re-filled.
A tank that is uncertified, damaged, has a bent or missing collar or foot ring, excessive rust or has been painted violates all national propane rules and policies and will not be filled.
All barbecue-type cylinders must be equipped with an overfill prevention device (OPD valve). Cylinders older than 12 years (10 years in Canada) must be re-qualified before they can be filled.
We check all valves for leaks after the filling process. If we determine your tank is leaking we will must keep the tank as NFPA regulations prevent us from releasing a leaking Propane Tank. We have propane tanks that we can sell you to replace your damaged tank.
New propane tanks are water-tested, emptied and filled with a neutral gas by the manufacturer to protect the inside from rust while shipping.
All new tanks must be properly purged before the first filling - otherwise, the internal pressure may rise and cause the safety relief valve to open.
Check your propane cylinder for leaks before you turn on your grill or appliance. The unintentional discharge of propane can cause a flammable environment. Use a solution of soapy water to check for leaks, which will cause bubbles to form. If a leak is found, turn the valve off, and check the system.
The distinct odor of rotten eggs is an indicator of a propane leak. Remove any source of flame from the area, and repair or replace any defective parts.

Transporting Home
Always keep your propane tanks upright and secure when transporting.
If your tank is left or stored in your vehicle, heat, sunlight and motion can increase pressure to an unsafe level. This may cause the safety valve to vent propane gas and create a flammable, explosive environment. Please remove your tank from your vehicle as soon as you return home or to your place of business.
Regulations require that all tanks be transported upright and secure with the valve closed. When on its side, a tank's relief valve may open, allowing flammable gas to escape. Contact your local fire department for local rules and regulations.
Store and use propane cylinders only in well-ventilated areas.
Do not use or inspect a propane cylinder indoors.

While at the Store
Please do not bring your tank inside the store.
Tanks should remain inside your vehicle or be placed outside the gate near the dispensing station.
See a team member inside the store for assistance.
Drive or walk right up to our side lot area to the dispensing station where we fill tanks.
Team member will open the gate and begin to fill your tank.
Remain 25 ft from the dispensing station. If you are filling a motor home or camper, it must be unoccupied during the refilling process.
Follow any additional instructions from the team member.
When the fill up is complete, you will receive a sales slip to take to the cashier.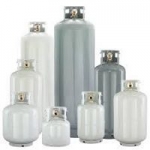 ---
---
Rowlett Hardware carries thousands of products and hundreds of brands in all of our stores.  You are sure to find what you are looking for!