Automotive
Rowlett Hardware - Your Local Hardware Store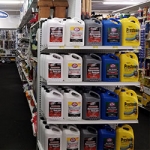 Automotive
We are Driving Excitement to Automotive Accessories and Supplies
We Americans love our vehicles.  Next to home ownership, they are often our second biggest asset.  Day to day maintenance of them is critical to keep our lives on the road.  Rowlett Hardware has a respectable selection of basic automotive products, whether you are patching a tire on a lawn mower or replacing windshield washer fluid, fuses, or bulbs.
We have the parts to keep your vehicle safe and effective.  Changing and maintaining your automotive fluids is important.  Our products will get you back on the road in no time.  Are you hauling a trailer? That is no problem at all!  Rowlett Hardware has the towing accessories for your travels.
---
---
Rowlett Hardware carries thousands of products and hundreds of brands in all of our stores.  You are sure to find what you are looking for!