Plumbing
Rowlett Hardware - Your Local Hardware Store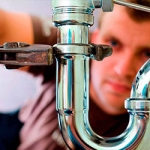 Plumbing
Plumbing Products to Keep Your Water Flowing Smoothly
General Plumbing Supplies
Plumbing is the infrastructure that brings life's most important resource to you and your family. A job of this magnitude demands plumbing supplies and practical solutions that work. That's Rowlett Hardware's commitment. The collection of plumbing supplies, sump pumps, water heaters, and more at Rowlett Hardware includes products that get the consistent results you expect.
Whether trying to save money on utility bills, ensuring that you have safe drinking water or one of many other home improvement goals - the employees at Rowlett Hardware can help. They make it their livelihood to help homeowners with techniques and plumbing supplies that add practicality and value.
Find water heaters for the comforting and energy-efficient showers you deserve. Cook cleaner and safer, thanks to water filtration units. Water is the natural resource that has many important uses. Make the most of it, starting with plumbing supplies and qualified guidance from your local hardware store.
Kitchen and Bathroom Faucets
Rowlett Hardware pairs performance with elegance to bring you kitchen and bathroom faucets, along with other quality products for the living spaces you use the most. From starting your day with a refreshing shower using a new shower head to preparing your evening meals with help from stainless steel kitchen sinks, we provide the necessities for comfort and function.
Rowlett Hardware can make these projects, and many others, possible with superior products that put you in control of your home's improvements. Stop by today and meet our staff who can guide you with the techniques and products necessary for creating the kitchen and bathroom spaces you want and deserve.
From bathroom or kitchen faucets to handheld shower heads for your morning routine, our selection provides you with the tools and techniques for adding beauty and value to your most important rooms.
---
---
Rowlett Hardware carries thousands of products and hundreds of brands in all of our stores.  You are sure to find what you are looking for!