Electrical
Rowlett Hardware - Your Local Hardware Store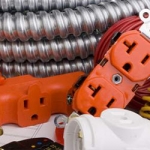 Electrical
A Powerful Selection of Electrical and Lighting Items
Take care of electrical projects yourself, with the help of Rowlett Hardware.  We focus on your home electrical needs, from replacement circuit breakers and batteries, to doorbells and more.  Rowlett Hardware stocks a wide assortment of electrical products for upgrading the connections that power your home. We have electrical tools, wiring, fittings, adapters,  and many other products that serious electrical projects require.  
You can also find doorbells, flashlights, and weatherproof items that enhance your everyday living.  So, whether you are looking for new products for everyday use or preparing for an electrical project, Rowlett Hardware has a great selection with high quality.
As with any home improvement project, safety is the number one priority.  Before you start any electrical project yourself, stop by Rowlett Hardware for expert advice to get your project started right.  We can help you with anything from replacing circuit breakers to installing a new doorbell system.
Proper lighting plays a key role in adding depth, beauty, and contrast to your home.  We have a wide selection of fluorescent lights, LED, CFL, and halogen light bulbs, and much more to choose from.  Whether you are refreshing a living area or outdoor lighting features, Rowlett Hardware employees can flip the switch on your creativity and personal style.
Expand a room visually with indoor ceiling lights. Rowlett Hardware puts these effects at your fingertips allowing you to brighten your home's appeal and character.
No matter what the weather is outside (whether it is too hot or too cold), inside it can always be just right.  Keep your cool with these must-haves: air conditioners, compact personal fans, floor fans, pedestal fans, and tower fans. When the temperatures drop outside, stay toasty warm inside with propane heaters, natural gas heaters, electric space heaters, or kerosene heaters.
Air a bit dry? Humidifiers are here to come to the rescue. For a decorative touch, check out our wood burning stoves, with all of the essentials for installation. Set your furnace and central air to the perfect temperature with a new thermostat. An energy saving technique is to add weatherproofing such as weather stripping for your doors and windows.
---
---
Rowlett Hardware carries thousands of products and hundreds of brands in all of our stores.  You are sure to find what you are looking for!