Fudge Shoppe
Rowlett Hardware - Your Local Hardware Store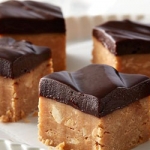 Fudge Shoppe
Yummy Fresh Fudge made in house at our Cleburne location
The fudge shoppe is located at the front counter of Rowlett's Hardware.  We have freshly made fudge for gifts, holidays, or just to enjoy. We have different gift ideas during the Holidays. There are over 100 different flavors that are rotated throughout the year. The most popular flavors are sold year round.
Chocolate
Chocolate Pecan
Rocky Road
Peanut Butter
Butterfinger
Butter Pecan
Sucrose Free Chocolate
Sucrose Free Chocolate Pecan
If you have not tried the freshly made fudge, you should! It is made by one of Rowlett's own employees, right inside the store.
Order yours today for your holiday festivities! It makes a perfect gift!
---
---
Rowlett Hardware carries thousands of products and hundreds of brands in all of our stores.  You are sure to find what you are looking for!