Paint
Rowlett Hardware - Your Local Hardware Store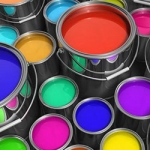 Paint
Paint and Paint Supplies for the Perfect Finish
Quality paint and paint supplies along with the right techniques add value and charm to your home's exterior and interior. Rowlett Hardware is committed to getting you there with extension or step ladders, paint additives, and many other home improvement supplies that work the way you do. During each step of the painting process - from color selection and painting preparation to final clean up.
Unlock your creative side and stop in for a peek at our painting guide for exterior and interior paint color ideas. In the event you need help advancing your project, meet with the staff for additional guidance. These resources can show you painting supplies and offer advice on painting or staining projects.
Gain access to those hard-to-reach areas with new extension ladders. Find tarps, sheeting, drop cloths, and rags to reduce messes and clean up accidents. Your unique situation demands painting supplies that are suitable, affordable, and help with each aspect of your project.
---
---
Rowlett Hardware carries thousands of products and hundreds of brands in all of our stores.  You are sure to find what you are looking for!