Lawn and Garden
Rowlett Hardware - Your Local Hardware Store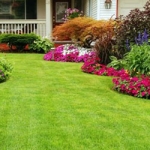 Lawn and Garden
Outdoor living - there is nothing quite like it!
Your yard and home's exterior are the perfect opportunity to make a great first impression. At Rowlett Hardware, our staff can help you create the look and theme that you have envisioned. We have lawn and garden products that provide year-round quality to your home improvement projects. Purchase select products, including gardening tools, watering accessories, and many other lawn and garden products.
While at the store, employees can help you flex your green thumb with the lawn and garden tips you need to get your projects flourishing. We can assist you with all of the important outdoor tasks from fueling your garden with fertilizers to maintaining stylish wood fencing. Rowlett Hardware is your neighborhood partner who shares your enthusiasm for the outdoors.
Outdoor living - there is nothing quite like it! You enjoy entertaining large groups for a day of lawn games, barbecue, and good times. Rowlett Hardware has what you need to accomplish all of your preparation goals for the party. As temperatures rise and days become longer, we are naturally drawn to the outdoors.
Convert your yard into an outdoor paradise with our selection of products, expert advice from your local Hardwarian, and your own personal touch. With Mom or Dad on the gas grill, good food is never too far away. Take in the stars and make s'mores with family and friends.
As a landscaping enthusiast, you know that there is always room for improvements. From winter to summer, Rowlett Hardware has the tools and advice you will need to start your yard maintenance projects right. There are plenty of ways to refresh your home's exterior. A great start is weeding, trimming, and mowing. We have all the tools to make your yard work as efficient as possible.
Shop our selection of small engine repair parts, lawn mower blades, string trimmers, and other outdoor power equipment for making your home and lawn look great each season. When summer work has passed, there is still a great deal more projects to be done before the winter months arrive. We can help you with installing a wood stove or fireplace to keep your house warm during the cold winter months.
At Rowlett, you can find a new chain saw or ax for splitting logs to help make your fall yard cleanup easier. Rowlett Hardware possesses the tools and local advice for whatever project you take on.
---
---
Rowlett Hardware carries thousands of products and hundreds of brands in all of our stores.  You are sure to find what you are looking for!